News, Events and Tips
This is the page for the latest important information for participating in the debt setoff program.
If you didn't get an emailed attached copy when created but would like to get the next one send an email request to
Customer Service
Current Tip:
#1 - 2012/13 Client software users - you can download your Import Status Report error file directly from the software. You don't have to sign-on to the secure website. Just select the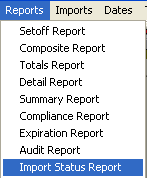 and click Print Report and it automatically prints.
#2 - Curious about the data you have at the Clearinghouse? We can create an Excel spreadsheet that will have details on every debtor and debt in our database. It has SSN, Name, address, debt amount, compliance date, expiration date, account number, unique key, setoff amount and setoff date. You could take this file and put in a format to re-send to us and let it replace your existing debts with a corrected version. Just contact us, we can normally create this by the next business day.